Though the Music+Video player on Windows Phone 8 is very good at what it does, there's no native support for iTunes file types. This could be a problem to movie lovers who use iTunes as the all-in-one media center on their computers, since many of their iTunes movies do not play on the Windows Phone 8. Well, there're some videos that are supported though. So what kind of iTunes music and videos play on window Phone 8?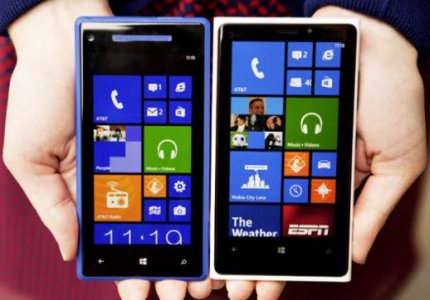 Basically, Windows Phone 8 (Such as Nokia Lumia 920/Nokia Lumia 720/Nokia Lumia 520/HTC Windows Phone 8S/Huawei Ascend W1/Samsung Ativ Odyssey/Samsung Ativ S etc.) currently doesn't support videos that use digital rights management (DRM). Today the AAC songs sold by iTunes are no longer protected AAC as they used to, and you can freely transfer them to HTC window Phone 8X for playback. But the movies and TV shows are still protected by DRM and thus not compatible with Music+Video player or Xbox Video. In that case you'll need an iTunes video converter and turn the movies into free videos before you can watch them on HTC window Phone 8X. Don't worry about the ripped videos that came into iTunes Movies category, you ripped movies in MP4/M4V format work with windows Phone 8 just fine. The guide below shows you how to get around with the iTunes movies protections.
Software Downloads:
iTunes Video Converter for Windows
|
iTunes Video Converter for Mac

How to convert iTunes TV shows and videos to Windows Phone 8
1. Set iTunes not to remember position. Launch iTunes, find and select the movies you'd like to convert, right click in iTunes and follow "Get Info">> "Options" to uncheck "Remember position". Then close iTunes.
2. Drag and drop the movies from iTunes Movie Library to the
iTunes to Windows Phone 8 converter
. Or click "Add" button on the main interface to import iTunes protected movies.
3. Choose Windows Phone 8 format. Click on "Format" menu, and you can easily find the profile "Windows"> "Windows Phone 8 H.264 Video(*.mp4)" as it shows in the below picture.

4. Click "Convert" to export DRM-free iTunes movies. The conversion proceeds as iTunes plays the movies. So DO NOT turn off iTunes until the conversion is completed.
5. When conversion completes, click "Open" to locate the free movies in MP4 format, and transfer the movies to Windows Phone 8.
Now you can open Music+Video player on your Windows Phone 8 and select one movie to play.

Note:
1. Only authorized movies are allowed to convert, any movie that does not play in your iTunes will not be converted by ChewTune.
2. If you're running Chewtune on Mac OS X 10.7 Lion,
iTunes must be set to 32 bit
beforehand.