Intel delays Broadwell chips to early 2014 due to production yield problems
We hope you weren't dead set on buying devices using Intel's Broadwell processors, as the company has delayed production of the 14-nanometer CPU line to early 2014. Fixes for early manufacturing defects didn't work as well as expected, CEO Brian Krzanich says, limiting Intel's ability to produce enough functioning chips. The setback shouldn't affect Skylake, Broadwell's successor. Still, it's not good news for a semiconductor firm that's scrounging for good news in an unforgiving PC market.
On September 10, 2013, Intel showcased the Broadwell 14 nm processor in a demonstration at IDF. Intel CEO Brian Krzanich claimed that the chip would allow systems to provide a
30 percent improvement in power use
over the Haswell chips released in mid-2013.
Intel reveal new Broadwell CPU technology, due out next year | Tech, Tech News | PC Gamer
Broadwell Surface Pro 3 in 2014? Yearly updates like Apple?
Intel Tick-Tock - Wikipedia, the free encyclopedia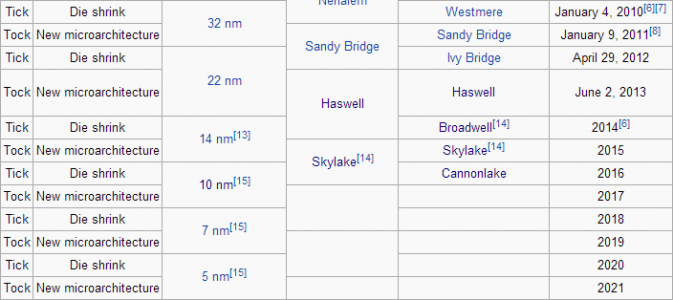 Last edited: