I heard so many questions about the i3 model Surface Pro 3, mainly from the people who wanted to upgrade from their i5 laptop/tablet. So, I've formed some kind of Q and A pairs to hopefully answer your questions:
What? Did you just say upgrade?
Well, yes. A tablet is so much more than just its processor. You, at least, upgrade the kickstand.
Okay, got it. Why is there so much fuss about the i3 SP3?
Mainly because earlier Surface Pros, as well as plenty of other PCs aren't available with Core i3, hence people with different needs, from different backgrounds, all use i5 whether they actually need it or not. Now that i3 is finally available on the SP3 line, upgrading to the i3 SP3 would feel like a downgrade.
So... should I downgrade the CPU?
It depends on what you need. Nobody could answer it better than yourself. Depending on how you use your PC, the processor you use might be overkill.
Could you give an example for such overkill processor?
Well, take an example, you use your Surface Pro mainly for tablet uses: browsing the web, taking notes, reading, email, watching videos. Heck, even a Surface RT could do that. To put it short, all metro apps, including games, don't even need i3. If you don't use anything more than that, you could probably even consider
Windows RT
Atom tablets (Sorry RT fans, RT is dead).
What if I need more than just metro apps? I use some desktop apps too!
Well, in general, the i3 can do everything the i5, and even the i7 can do. It is just slower. In some scenario,
the i3 could be up to 50% slower compared to the i5
, yet it gets the job done anyway. Programs that require short burst CPU performance like Photoshop would benefit a lot from the Turbo Boost feature on the i5, where the program can run at 2.9 GHz for a short time, as opposed to 1.5 GHz on the i3. Almost twice as fast. Not all desktop apps require i5/i7 though, programs that are available as metro apps such as VLC or Chrome would not stutter on the i3. If youre still unsure, you can list the programs below to get help from our friends.
I don't recommend using Chrome on touch, high DPI, or battery-powered devices, as Chrome has issues with all those traits. The problem gets even worse on a device that has all those 3 like the Surface Pro 3. VLC is also poorly optimized in touch-friendliness and battery usage.
I
heard the i5 and i7 model throttles to i3 speed.
Yes, they do. If you put a long sustained load on the CPU like video rendering or gaming, the i5 would soon reach its threshold of throttling, and throttle to i3's speed. You can consider the Surface Pro 2 if youre going to put lots of sustained load on it.
Pro Tip
:
Get a USB fan (or any other fan, really) to help the heat dissipation system, and eliminate the throttling altogether. You can search in this forum as well as the entire web to get more information about external fan for the Surface Pro 3. It also significantly helps the GPU performance.
How about GPU performance? I want to game!
Unless on a short burst, the i3 and i5 are pretty much identical due to the throttling. Let me put this clear:
The i5 is not faster than the i3 for gaming
, unless you use the external fan explained above. The i7 benefits from the additional graphics EU (Execution Unit) though, so the overall performance is still faster than the i3/i5 even though it is throttled.
If you want to use the SP3 for gaming though, I would recommend to skip the SP3 entirely unless you're okay with low details or even setting lower resolution.
(take note that the 'gaming' I was talking about doesn't include metro games like Angry Birds or Asphalt 8. As I mentioned earlier, even the Surface RT can handle metro games)
Since I have the faster i5 CPU, can I just slow it down to i3 speed to try it?
Yes, just limit the Maximum CPU Performance from the Power Options. To make sure, put CPU load on it (example: Prime95 benchmark) and check the Task Manager for the CPU clock speed. If it maxes at about 1.5 GHz, you're emulating the i3 CPU on the SP3.
Okay, I can live with i3, but do I need more than 64 GB?
Yes, unless you use it really lightly. Using i3 SP3 is like using 16 GB iPhone, you would fill it in no time. There are some tweaks to get more storage out of the 64 GB space like
moving the recovery partition to a USB stick (about 5 GB saving)
or
applying WIMBoot image (about 10 GB saving)
. The easiest option would be a 64 GB microSD card (~$30). Totaling up to 128 GB, it is now comparable with the i5 model. Sure, microSD is significantly slower than the internal SSD, but half of your data might not need the fast speed anyway. Most multimedia files like music or movies, for example, can easily live in a microSD card.
How much space do I get out of the box?
About 35 GB
. You can further disable hibernation (4 GB saving) and reduce the pagefile size (1-2 GB saving).
Even on the i5 and i7 model, I would recommend to disable hibernation on the SP3 since Connected Standby would only run for 4 hours otherwise.
If I disabled hibernation, will Connected Standby drain the battery?
The battery drain is actually pretty insignificant, less than 1% per hour. I don't know why Microsoft implemented the 4-hour-only Connected Standby since that's not implemented on any other Windows devices, including their own Surface RT/2.
I can afford the i5 or even i7 SP3, should I consider the i3?
Well, there are some reasons why you should. First of all, you'd save some cash for sure.
More importantly though, the i3 model has more consistent battery life in general. Since the TDP is only 11W, the CPU can only draw that much. The i5 or i7 model, on the other hand, could draw up to 15W or even more during shorter burst. As an example, metro games and apps like Asphalt 8 and Drawboard PDF love to rev the i5-3317U on my Acer W700 tablet. The benefit from the speed is actually negligible, since sitting side by side with my i3 SP3, the rendering time is identical. In this case, you'd save quite a lot of battery juice with the i3.
If you spend most of your time in metro apps, I would totally recommend the i3
.
Then there is the fan noise. Power consumption is closely related to heat and fan. Here comes the benefit of 11W TDP once again. You can stress the CPU as much as you want, as long as you want, and the fan wouldn't run. It only runs when you stress the CPU and GPU simultaneously. If you read the forums, people are saying that their i5 or i7 fans hum from time to time, yet my i3 SP3 is pretty much fanless.
Here is the proof
.
Moreover, with Skylake (6th gen) coming in less than a year from now, investing in $1500 Haswell (4th-gen) PC might not even be a good idea.
Speaking of Skylake, Broadwell is here! Should I get the i3 SP3 or get a Broadwell tablet instead?
Well, it all depends on what you expect from Broadwell. As far as I know, Broadwell would increase the GPU performance by a significant margin. However, that's not the case for power consumption. All 4.5W Broadwell (Core M) devices reviewed so far, including the Lenovo Yoga 3 Pro and ASUS TF300, don't last much longer than Haswell PCs. In fact, none of them could last as long as the Surface Pro 3!
If youre specifically talking about Core M though (not the entire yet-to-be-released Broadwell lineup), I would say just skip it and get the Surface Pro 3 instead. Core M devices throttle really badly, yet the power efficiency gain is not significant.
Since Intel has released their (optimistic) figures, you can decide for yourself if the performance improvements matter to you.
The results are almost directly comparable between the i3 SP3 and Core M tablets, since Core M (Broadwell-Y) is essentially the successor of the Haswell-Y CPU used in the i3 Surface Pro 3.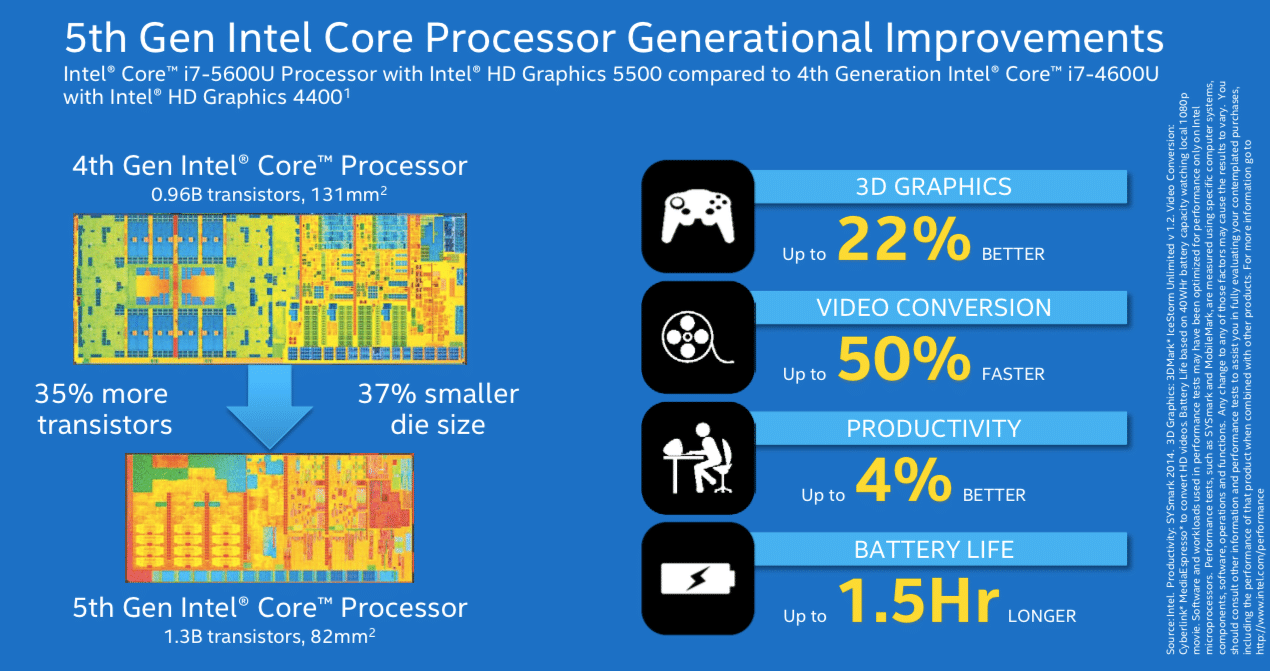 Here is a take from our friend
markusbeutel
on his/her Core M-based Dell Venue Pro 7140 after s/he upgraded from the Surface Pro 3
The Core M devices should have better battery life, but many OEMs are putting in smaller batteries which in the end give around the same amount of battery life while promoting weight and thinness... The Dell Venue Pro 7140 doesn't though, and is an example of how Core M can trump Haswell PCs on battery life. My past SP3's don't come close to the battery life I'm getting now (12-16 hours), where with similar usage on the SP3 WITH the power cover, I was getting 6-8, literally double. The Helix 2, especially once its battery keyboard is released, will also dominate the SP3 on battery life as that's one product Lenovo sort of got right (reinstating the trackpoint buttons, etc). As for throttling... Core M doesn't throttle nearly as much as the Haswell processors in the SP3 - the Yoga 3 Pro is an outlier, as Lenovo basically butchered the internals in order to promote the 'world's thinnest' hybrid device.
Last edited: