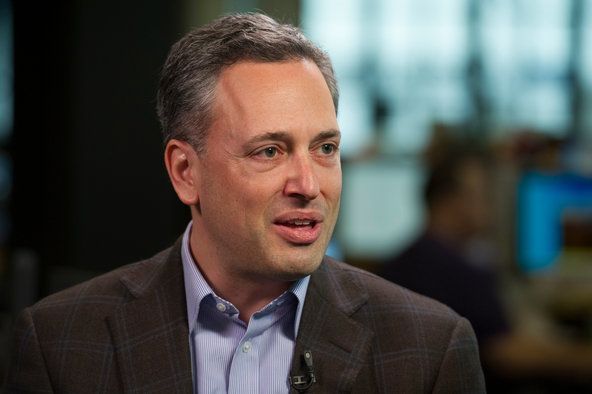 Plenty of people goof off at the office by checking their Facebook accounts. Now Microsoft is paying $1.2 billion for a company that has made Facebook-style social networking just another tool for getting work done.
The all-cash deal for Yammer, a social network service for businesses, is another sign of how consumer technologies that once seemed like toys are reshaping the slower-moving corporate information technology market. Products like the iPhone and iPad have come to be embraced by many big companies after being dismissed earlier by many technology traditionalists inside companies.
Yammer, which is four years old, allows companies to create private social networks, where employees can chat, shares files and collaborate on projects, away from the prying eyes of outsiders. It has co-opted many of the basic concepts familiar through Facebook to create a more business-friendly social networking service.
"Businesses are inherently social," said George Zachary, a Yammer board member and a partner at Charles River Ventures. "The handwriting has been on the wall, enterprise is starting to mimic the real world."
Larry Cannell, an analyst with Gartner, the technology research firm, said that he expected corporate social networking would one day become as embedded in the communication habits of big companies as other more familiar tools sold by Microsoft and others.
"It will be up there alongside e-mail," he said.
Microsoft plans to make Yammer part of a division responsible for selling Office, a suite of lucrative applications for businesses that are increasingly facing challenges from inexpensive online alternatives.
Yet at $1.2 billion, Microsoft is offering a hefty premium for a company that is still struggling to ramp up revenue. In late February, Yammer raised $85 million in a financing round led by Draper Fisher Jurvetson that gave it a market value of roughly $600 million. While Yammer has more than five million registered users, only about a fifth of them are paying users.
The hope is that the Microsoft marriage will expose Yammer's service to an even larger client base, creating more paying customers — or at least endearing more to the Microsoft brand.
"For someone else, that price may be high," said Ping Li, a partner at Accel Partners. "But Yammer brings a set of capabilities they don't have. From a product perspective it makes sense."
Microsoft has fallen behind on social networking applications for businesses, even as its Office software has become ubiquitous in homes and offices. It offers SharePoint, a collaboration platform, but the service is primarily used to manage and share content, lacking some of the more advance social networking features available in Yammer.
"Microsoft has been a bit slow to the social game," said Rob Koplowitz, a Forrester Research analyst. "Social enterprise is taking off, and Microsoft needs a strong position."
Microsoft's pursuit of Yammer comes as the enterprise market converges with the consumer Web. Traditionally, a company's technology purchasing decisions were made top-down, controlled by a handful of information technology experts. That model is rapidly eroding with the rise of Web-based services that are created to be lightweight and easy to use..
Start-ups like San Francisco-based Yammer reel in consumers with free versions. Those consumers then become evangelists at their companies, encouraging their employers to adopt the application and pay for a premium subscription.
It is a model that is still somewhat foreign to Microsoft, a company founded nearly four decades ago.
In a conference call on Monday, Microsoft's chief executive, Steven A. Ballmer, said he was, in part, drawn to Yammer because "it was built on a notion that says things can grow virally where consumers can make decisions in their personal life, expand in their professional life."
Just as a Facebook profile contains information like name, city, or date of birth, a Yammer profile can include job titles, qualifications and experience. It can also be used as a directory of contacts, which is useful when trying to find different skills needed for a project.
While Facebook users talk about going on vacation and post pictures, Yammer users contribute to online conversations around different projects they are working on, and swap documents. Facebook users "like" others' comments, while Yammer users praise colleagues for a job well done by awarding them badges.
It is also possible to use Yammer for lighter things, like posting pictures from a company outing.
Yammer's registered corporate users of its service include companies like Ford Motor and Pitney Bowes.
Co-founded in 2008 by David O. Sacks, its chief executive and former PayPal executive, Yammer is one of several companies to jump into social networking for business.
Salesforce.com sells a product called Chatter, designed mostly for its existing customers. Jive Software, which went public late last year, also employs algorithms to spot areas where workers might share more information. A company called Asana, started by one of the co-founders of Facebook, shuns the "updates" model of social software in favor of a system of tasks to be assigned, monitored and completed.
Microsoft approached Yammer in the first quarter and submitted the first acquisition bid in May, according to Mr. Zachary, the Yammer board member. "We said, 'Look, we won't go shopping, but give us a fair price,' " he said.
"Microsoft has been on the hoop, watching Facebook and Twitter," Mr. Zachary said. "They realized that if consumer messaging was going this way, enterprise was going this way as well."
Indeed the software giant has been spending liberally in the social arena of late. Last year, it paid $8.5 billion for Skype, an online communications tool, in its largest acquisition to date. Microsoft also plans to incorporate Skype into applications in its Office family of products.
In recent months, Yammer has aligned itself more closely with the software giant. In April, Yammer acquired OneDrum, a British start-up focused on file sharing and enterprise collaboration solutions, for an undisclosed sum. At the time of the acquisition, Mr. Sacks highlighted the value of the start-up's applications for Microsoft products, citing the popularity of Microsoft's Office documents.
On Monday, Mr. Sacks said that the acquisition by Microsoft would give Yammer access to a much bigger pool of potential customers than it would have on its own.
"It's the best possible partner in terms of reach and resources," he said.
Source: Dealbook