Building a rich and extensible media platform - Building Windows 8 - Site Home - MSDN Blogs
Our main goal for native media format support for Metro style apps was to ensure users and app developers could count on a consistently great playback experience across a wide variety of PC form factors, with modern formats used in mainstream scenarios such as:
HTML5-based entertainment on the web
Home movies captured using popular smartphones, point-and-shoot cameras, or AVC-HD cameras
Streaming music, movies, and TV shows from popular services
The tables below show the video and audio formats that have built-in support for Metro style apps. Formats recommended for use by Metro style apps are a reflection of deep partnerships with hardware manufacturers for predictable hardware acceleration across PC form factors and predictable end-to-end scenario performance beyond playback such as capture, streaming, and transcoding.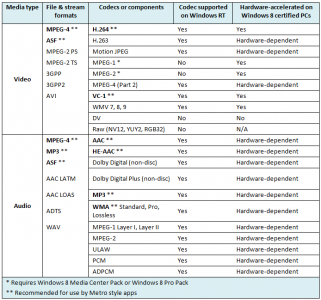 Windows 8 has excellent support for MPEG-4, most typically comprised of H.264 video and AAC audio. Several popular codecs, including Divx and Xvid, implement the MPEG-4 Part 2 standard, so many of these files play great in Metro style apps. The same is true for modern MOV files, which are based on the MPEG-4 Part 12 standard, such as videos captured on iOS devices. Fragmented MPEG-4 and 2K/4K resolutions are now possible. We have previously talked about MPEG-2 and DVD playback, which is available in Windows 8 Media Center.
During the development of Windows 7 we talked quite a bit about CODEC support natively in Windows and the formats available through extensibility. Since then, the environment around CODECs has consistently moved towards a smaller set of well-defined and broadly-supported formats, particularly h.264 for video. Due to factors such as intellectual property and hardware support, this makes a great deal of sense. Even browsers are making this transition with HTML5. But we also recognize that some individuals have preferred formats for a variety of reasons, and we wanted to make sure Windows 8 app developers could choose to use the formats they prefer. Formats popular among the enthusiast community or with specific developers such as FLAC, MKV, and OGG, can have their own CODECs packaged as part of a Metro style app, since the Windows 8 media platform is highly extensible.