If you don't want to be tracked by your downloaded apps, you can adjust the Windows firewall to block/allow specific apps from the internet, like your Xbox app games being automatically added to your mandatory Xbox account that comes with your Microsoft Account. If you block the Xbox games, you won't see any achievements, though keep in mind that certain games sync save-games online; if you don't care about syncing and just want to keep your apps local, this will work.
This works fine in Windows RT.
From the Search charm, type "firewall" and select Windows Firewall with Advanced Security.
In the left pane, select
Inbound Rules
and select the app you want to block.
In the right pane, select Properties.
Under "Action" at the bottom, select Block, and Apply/OK.
Repeat the above for
Outbound Rules
too.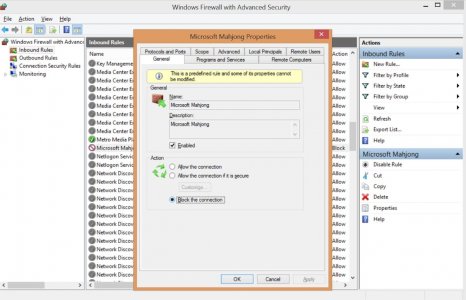 Obviously, there are other tricks like enabling airplane mode while playing/using apps, but the Firewall method is more permanent (until you manually change it again) and allows you to use your wifi for other things.
Last edited: