Hi everyone,
I'm here in Germany and the Surface delivered to me was in German, but the Reviews in the Marketplace were in English. Also I could see some Apps, which shouldn't be seen in Europe (Netflix, PRadio, etc.). If you're in Europe you will not see or find them.
So here is how it goes:
1) On the Main Metro Screen search for "Region" (Region is German, but should be the same in English). You will have to go to Settings to find this:

2) This will open the following Window on your Desktop: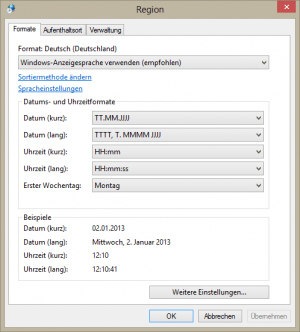 3) On the second Tab ("Aufenthaltsort" in German) you will be able to tell you Windows 8 Device where it is
Setting this to French will give you Access to Apps which are only available in France. IT WILL NOT Change your Displaylanguage to French, however the Reviews in the Marketplace and some other App-specific Details would be in the Region Language. After installing your desired App you can easily switch back to your Region. This can be done as many times as you want.
Enjoy
(As I am enjoying Pandora here in Germany...
)
Greetings,
Maulwurf
Last edited: