SOLD>
I have a Surface Book purchased 4-1-2016, UAG case and Microsoft Arc Touch Mouse. Below is the invoice that shows the specs of the one I am trading. It has been lightly used and shows no scratches or signs of use what so ever. It has had a screen protector and bamboo skin on it since it was purchased. It will come in the original Microsoft box packed up just like it came from Microsoft. I received a faculty discount on it when it was purchased. Im aware this is less expensive now but when I configured the same one today on the Microsoft Store site it came out to 2525. The infrequent use was done at home. I am getting rid of this because I want something smaller to travel with.
Now for sale $ 1700 or trade for new Surface Pro 4 (loaded i7)
Im not sure how to facilitate a trade like this. My 10+ year seller rating online is perfect with e bay and you can find out a lot about me online through Linked In. Im in North Georgia about an hour north of the airport.
INvoice from the one i am trading.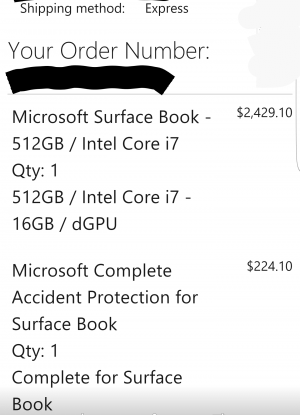 Last edited: