Hi,
I have a Surface Pro 2 since 2 days. But there seems to be a 'little' problem with the audiovolume. It is too loud. I mean really too loud. So loud that I even can't turn it higher as 40-50 without nearly destroying my ears (and I usually have no problem with high volume). So loud that I probably could use this device to fill a complete concert hall with sound.
The problem appears with the internal speaker and headphones/external speakers.
For example: Windows volumecontrol is on 8. I use my external speakers. Windows Media Player is on 40 and Spotify is used at ~70%.
For a normal and appropriate volume out of the surface I have to set the volumecontrol of my external speakers to ~5-10% (Note: on my desktop they are on 25% with windows volume on 20 and the media player on 55).
Or with headphones: volume on 5-10 on the surface is nearly as loud as my desktop with the same headphones but volume on 20 and activated amp of my asus xonar dg.
I tried probably all of the audio settings in the systemcontrolpanel, nothing changed. I uninstalled the realtek drivers (in the device manager; but after the reboot they werent marked as 'unknow device' or something. It appears to me, that the drivers are automatically installing again on reboot, because after installing with no reboot, I cant play music with the media player (no audio-device found). After reboot without installing the drivers myself, the media player works).
Nevertheless, I installed the realtek drivers out of the driver package for surface pro 2 from microsoft. Nothing changed.
I've read that in the 'audio enhancements'-section of the speaker there should be some options to check/uncheck. However, I can't find anything of this.
The audio-enhancement panel looks like this (NOTE: the 'Aktivier' behind the checkbox is uncomplete. I assume that it should be 'Aktivieren' (engl.: activate)):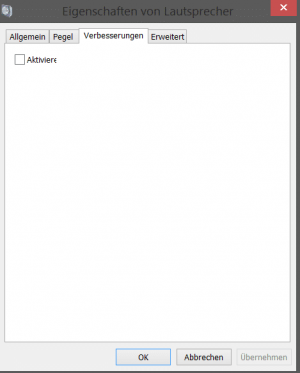 Also the volume level of the source (or whatever the grey bar behind the green bar should stand for) seems to be really high: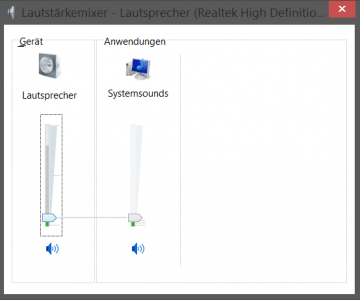 this is a screenshot from just setting the sound volume (to 7) to get this 'pling'-sound. The grey bar from 'Lautsprecher' hitted the top. This isn't normal. It appears to me, that there is somewhere something active like a amplifier. It also looks like a software problem, because of the grey bar that is hitting the top.
Has anyone a idea of what reason of this strange problem could be? Or could tell me somebody if this is normal or what the normal audio level of the surface pro 2 should be?
EDIT: All available updates and newest firmware are installed.
Last edited: