Microsoft
Corp.
MSFT +0.11%
isn't the only company introducing a new Windows 10 hybrid tablet-laptop this week. On Thursday, Dell Inc. revealed a trio of new XPS laptops, including the XPS 12: a tablet that docks with a sleek keyboard to become a laptop. The new XPS 13 and XPS 15 have their own bragging points: Dell claims it's built the smallest 13-inch and 15-inch laptops on the planet.
XPS 12
Dell is clearly challenging Microsoft's Surface Pro with the XPS 12. But unlike previous Surfaces, this one sits rigidly upright, like a laptop, when locked into its keyboard base.
The 12.5-inch tablet half of the XPS 12 boasts a resolution of either full HD (1,920×1,080 pixels) or 4K Ultra HD (3,840×2,160 pixels). Just be aware, by opting for more pixels, you lose battery life, which is 10 hours at best, says Dell.
The tablet has a magnetic attachment to its keyboard base, locking in for most positions and releasing with a one-handed gesture when at a specific angle. Like Microsoft's Surface Pro and upcoming Surface Book hybrid, the XPS 12's display can handle touch input and stylus input (using Dell's Active Pen stylus) for note taking, drawing, marking up screenshots of websites and other digital pen needs.
No matter the resolution, the display has a 8-megapixel rear camera, and a 5-megapixel front camera for photos and video chats as well. Since the XPS 12 can function as a tablet, its Intel Core M5 mobile chipset is situated beneath the display. Along its edge are two USB Type-C ports, which allow it to charge up as well as power external drives and monitors.
The XPS 12 will start at $999—including the keyboard dock and a protective case. It will ship on Nov. 5.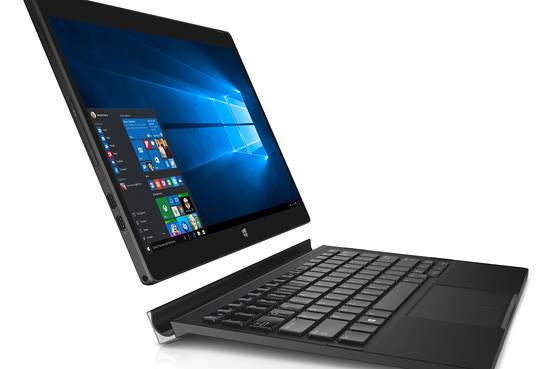 Dell Revamps XPS Laptop Line With 2-in-1 Tablet, 4K Displays and Carbon-Fiber Bodies