So, I've spent about 8 hrs on my SP3 and there are couple of small noticeable problems and differences when compared to the SP2.
I thought I'd share my findings and tips with the rest of you, and maybe someone can point out a solution to some of the problems that I have.
1) Update to firmware 140619 as soon as you get the device- machine seems to run much quieter and no more problems when waking up from sleep while running desktop programs. (it also feels like the charging goes faster, but I might just be wrong).
2) The pen has couple of glitches- sometimes you have to press really hard to register an input. Sometimes, the pointer disappears for a moment. (The machine comes with an outdated N-trig driver with tons of problems on wintab related desktop programs. Pressure sensitivity does not work on major programs such as Photoshop CS5, SAI, Corel). N-trig did release a new firmware to address some of these issues a couple of days ago, but their website is down(
http://www.n-trig.com/Content.aspx?Page=wintab
), and I'm hoping the eventual driver update fixes some of these glitches. On a sidenote, the edge tracking seems much better than the SP2.
3) The pen holder has an extremely tight fit, and if you're not careful you can rip the attachment right off the keyboard (you can always just super-glue it back on).
4) Streaming videos off sites that use flash on desktop mode takes huge performance hit (youtube, twitch, etc). Trying to playback fullHD content off flash ramps up the fan to the point where the fan noise interferes with the audio. Seems to be fine in Metro.
5) The windows button on the right is annoying- unless you're a lefty, you keep accidentally pressing the capacitive button.
6) Thin body with less exhaust vents and a tiny "silent" fan means the device gets really really hot. I was running CoreTemp for about an hour during HDstreaming, CPU temperature was around mid 50'C, highest being 69'C. and this wasn't even a torture test. The device gets much hotter than the SP2 and while the fan doesn't turn on until higher temperatures than the SP2, once it gets going, it's got a really annoying pitch to it.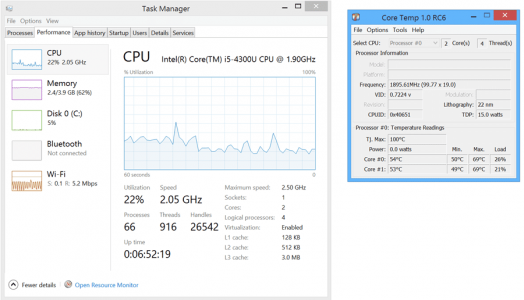 7) Kickstand has a little flex to it, and at 150' you're better off retracting the stand specially when trying to use the pen.
8) Surprisingly, there's not that much free memory left on 4GB model when compared to the SP2. Granted, I'm still only using about 55% of the max mem available so this shouldn't really be a problem.
9) Sliding from bottom when the keyboard's magnet slit is attached is hard, and pressing the icons on start taskbar in desktop use is a little challenging.
[Final Thoughts]
Of course, at this point I'm being really picky with these complaints. SP3 is still a rock solid device that's uver fast(interestingly slower than the SP2) and most importantly is a device that gets the job done. The keyboard seems to be an improvement over the last generation, especially the touchpad. I'm not too sure about ditching wacom for n-trig, but I'll save my opinions on pen-input for now. Screen is amazing but seems to have a little bit of bleeding towards the edges and I honestly can't find the merit in MS's famous "3:2 aspect ratio". I do find it easier on my eyes on portrait mode, but this device is too big and heavy for a tablet-like use anyways. I just hope microsoft addresses some of the issues.