Got my power cord replacement today. Its just a smidge longer than the old one by 1/4 inch and otherwise looks almost identical except there's a molded 3/4 inch strain relief at the figure eight connector that wasn't present on the old one. No noticeable differences in the wire portion.
Overall length is 21 inches (not including plug prongs)where the old one was 19 & 3/4
inches. Not terribly long but not appreciably different or shorter than the old one in that respect.
Note: I actually marked the new one so I wouldn't get them mixed up before noticing the extra strain relief on the new one.
strain relief circled.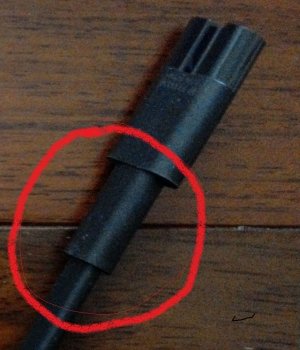 Last edited: