Hi all,
I have tried everything, really everything exept for removing drivers because visually Windows recognizes the connection and I see the sound bars go up and down BUT, I have no sound.
Because pictures say more than words, here some pictures:
my audiosystem from Logitech:

my digtal audio connection, via s/pdif connection as seen on the picture (but I can swith it to optical):
it fits perfectly in the docking station, with a click:
How the connection is seen in Windows 8 on my Surface Pro 3: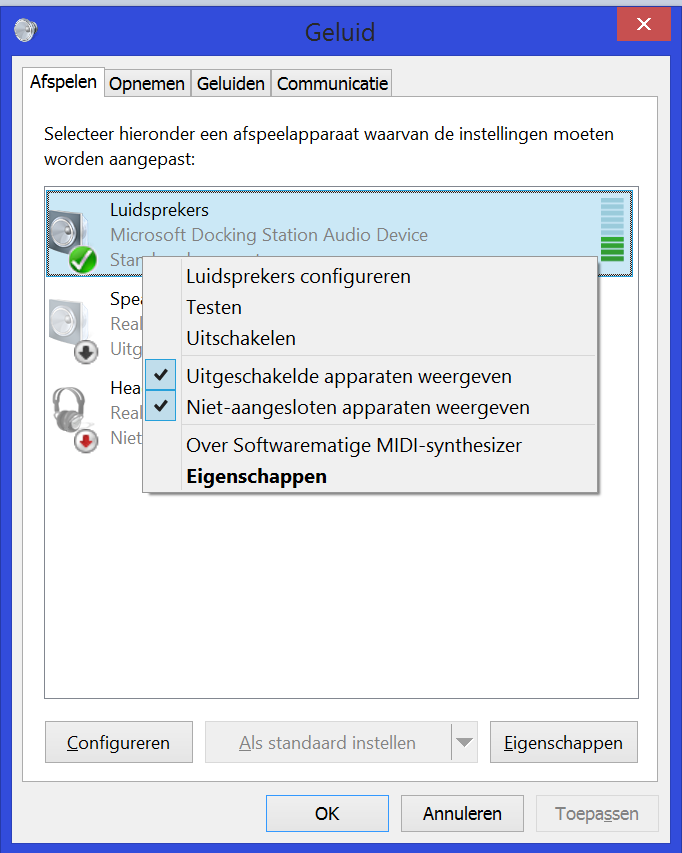 As you can see the "Microsoft docking station audio device" is recognized and when I play music I can even see the green bars go up and down, so I assume the device is correctly connected and recognized.
For now I use my Terratec aureon 7.1 usb box to get sound from the system, its connected via USB to the docking station and with the same cable (wich I can swith from s/pdif to digital optical) to my speaker system.
But why don't I get audio from my speakers?
What else can I do?
I also refreched the drivers from device management but Windows say I have the latest driver.
I'd rather use only the audio cable between my soundsystem and the docking station.
Now I have that usb box with the usb cable and the audio cable.
I assume since Windows recognized the audio that Windows supports the s/pdif connection?
So, help
Thx anyway
Riko