This is unofficial (not endorsed by CBS/Paramount), but it's been around since January 2013 and hasn't been pulled, which is a good sign... though maybe it'd be best to get it ASAP just in case it does get more interest from CBS/Paramount, who have been pulling LCARS apps from the Apple store regularly, apparently. Maybe the WinRT/8 ecosystem is small enough right now to escape their notice.
The dev has several other LCARS-type apps for Windows phone and such:
Davstar Apps - News and Support Blog
LCARS Interface app for Windows in the Windows Store
Surprise! LCARS Interface is currently the top paid Windows 8 app - Neowin
I just discovered this tonight and have been feverishly poking around in it to see what I can do. I'm uploading a video to my Skydrive right now just to see how the media player works with it. The best part--I'm not even a hardcore Star Trek fan, but this was just too cool to pass up, even though I don't understand any of the "aesthetic technobabble" screens. It even makes little beeps when you interact. The app will reflow when you snap to the 3/4 width (I'm not sure how it'll work with 8.1's fluid width snapping). There is a built-in Star Trek game of some kind that I can't figure out and probably never will, judging by the instructions on the guy's website.
I do experience lag when typing in the text log on my 1st gen Surface RT, unfortunately, but perhaps Pro users and the 2nd gen devices won't see this problem. (Edit: clarification later. Lag is avoidable on the Surface RT)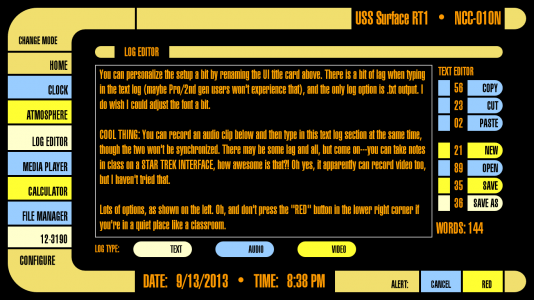 Edit: Huh, I don't know what happened. But now when I'm typing in the text log (and tried with background audio recording again), there's no more lag. No idea.
Last edited: