I am very frustrated. I tried different methods and non of them works. I hope you guys have a solution I'm not aware of.
I want to install unsigned driver on my Surface Pro (128GB, Windows 8 Pro).
I go to Troubleshoot > Avanced options > Startup Settings, and then the "Restart" button as described on
this site
(and many others).
However after PC restarts I am not able to choose anything. Simply my keyboard doesn't respond. I connected different one but same thing. Until this moment all works perfectly (and mouse as well). What more, my screen is different than the one from the link (black screen, oldskool DOS view):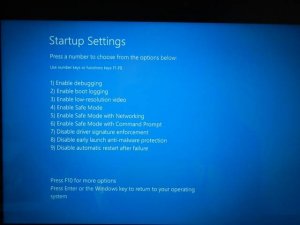 I tried with function keys and with number keys, as well as with num block keys. Nothing.
My keyboards are not Type or Touch Cover, they are Ligitech K800 and other on regular USB cable.
I tried on Secure Boot enabled and disabled.
I'm run out of ideas.