To begin this is the only issue that I have come across with the surface.
So, first thing is research!!
Here is a quick video from one of the lead designers explaining how the fan works.
My intent is to provide the files for those who have their own 3d printers.
I will update this 1st post when I progress more into this project.
Little update:
These are the parts that I have purchased and will be working with.
1. 4 pin connector
http://www.digikey.com/product-detail/en/10114829-10104LF/609-4385-1-ND/2658918
2. Internal laptop fan.
Amazon.com: Eathtek New CPU Cooling Fan For DELL LATITUDE E6400 FX128: Computers & Accessories
3. USB to 4 pin connector
http://www.amazon.com/gp/product/B000IV6S9S?psc=1&redirect=true&ref_=oh_aui_detailpage_o00_s01
4. USB port hub
Amazon.com: Sabrent 4-Port USB 2.0 Hub with Individual Power Switches and LEDs (HB-UMLS): Computers & Accessories
I have started a model but not finished yet.
River
15-Sep-15
little update I soldered the red and black wires together for the connector and the usb. my current cable is a little short for how i want to arrange things, so I am going to go get a little extension.
Made a model that may work need to find time to print it. Test weeks have come up so I have been a little busy.
4-Oct-15
Okay! Well I printed it it turned out great. Everything fits tight, you have to be careful pulling the support material out or you might crack a wall, like i did, but nothing a little hot glue wont fix. I found that a screwdriver and a dental pick work pretty good at pulling the support material out. Overall it wasn't that bad to deal with.
assembled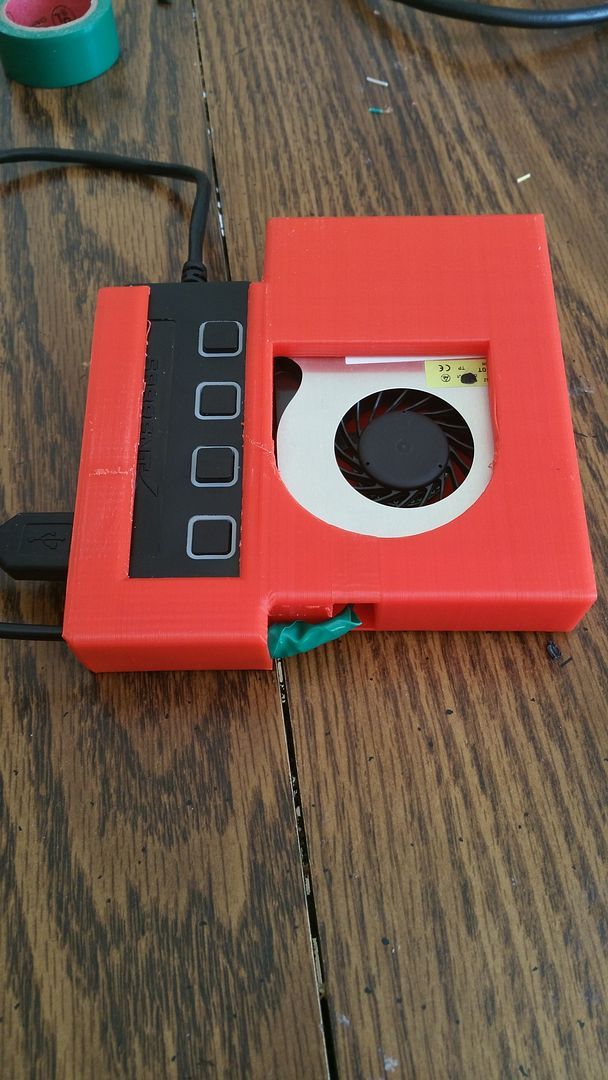 I printed a little cover to put over the fan hole the tabs didn't fit right so i just cut the pins off and hot glued it on.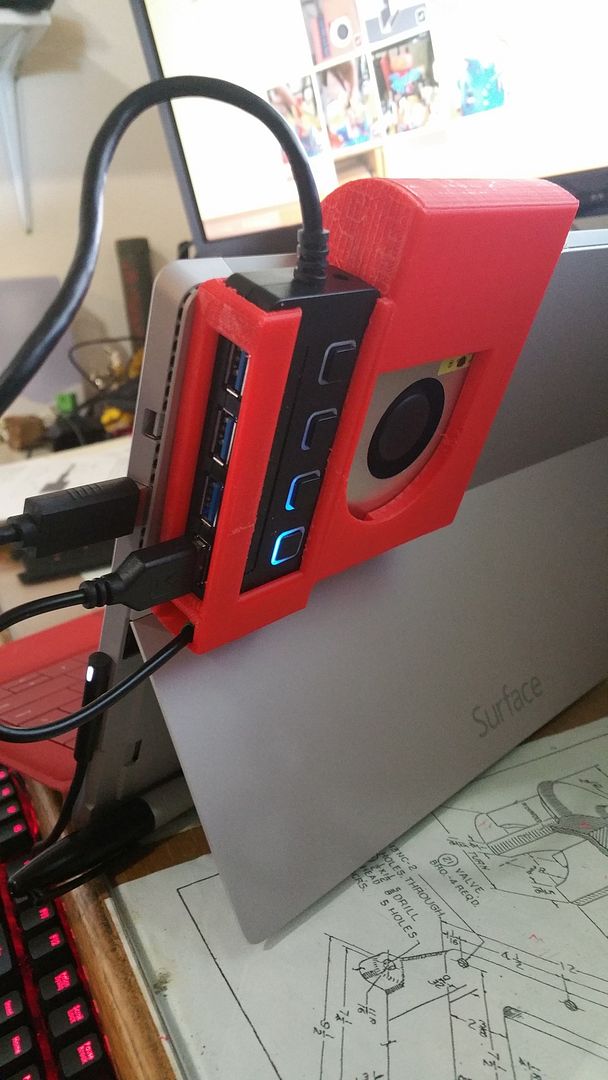 On the surface
I will upload the files in a bit!
Here is my disclaimer.
I will not take responsibility for you breaking your own stuff. Something happens because you used this.. (not saying it will) then it is your own fault.
As promised:
STL file:
Dropbox - fan cover.STL
Solidworks file:
Dropbox - FAN DUCT.SLDPRT
fan cover stl
Dropbox - FAN DUCT.STL
Fan duct without usb
Dropbox - FAN DUCT without usb.STL
Last edited: