** Of course, proceed at your own caution. This works well for me but if you brick your rig it's on you...
Your Surface pro runs a cpu that can throttle back pretty dramatically - down to about 800 mhz. This is mostly to save battery life.
There is an app that allows you to stop this throttling. It is aptly named
"Throttlestop"
. Basically it allows you to
run your Surface Pro at close to Turbo speeds all the time
. I use it when I am plugged in and turn it off when I need to be on battery for a while. One benefit I have noticed is that web pages load much faster more consistently.
You can download it here:
Downloads | Tech|Inferno
Get the version 5.0. There is no setting to have it start with Windows so you have to either set that up in Scheduler or manually start it when you want to use it. It then runs from your Notification Area as a little stop sign icon.
Here are the settings that seem to work best for me. The setting I would recommend
NOT
messing with is voltage. You are not really overclocking your Surface Pro, just disabling throttling and placing it close to Turbo Mode most of the time.
* One note regarding the benchmarking tool included. The lower your score the better. So even though it says "high score" it really means "best score".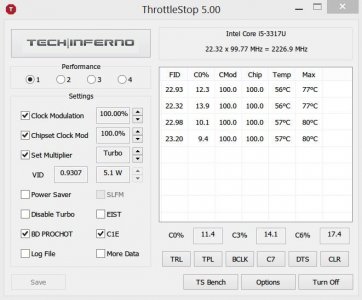 Last edited: