with all the back and forth on other threads about the start button, why don't more people do the following: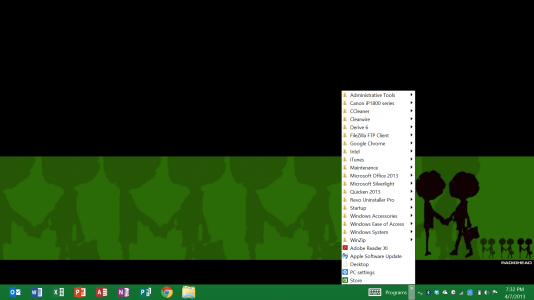 I was frustrated at first too with the surface pro being my first exposure to windows 8. I was pinning all my apps on the desktop taskbar which is what many people suggested to do. I (like some others who post here) am accustomed to putting frequently used programs in the taskbar and using the start button for less frequently used programs. my taskbar was looking pretty cluttered. but google is your friend!! I read this tip a while back, I can't remember where I found it.
1. right-click on the desktop taskbar
2. choose toolbars -> new toolbar
3. navigate to C:\Program Data\Microsoft\Windows\Start Menu\Programs
or if you have shortcuts directly on the start menu root that you'd like to access you can point to C:\Program Data\Microsoft\Windows\Start Menu which is what I believe the original tip said to do.
don't forget, the "Program Data" folder is hidden depending on your folder settings, so unhide it first if you need to. no more cluttered taskbar, easy access to all my desktop programs, and all without any extra third party software!!