Quick review of the Mime Tempered Glass Screen Protector...since I've put a tempered glass protector on my Galaxy S5, I've become a huge fan of the technology. It already saved my S5 screen and is a lot cheaper than a replacement screen while being nearly unnoticeable.
Unfortunately, for the SP3, the options are a lot more expensive. Best Buy sells a Zagg version for around ~$55. Mime sells theirs for about $50, so I figured I'd try the cheaper version.
When it arrived, it was a pretty slick package that included the screen, a dust catcher, and a microfiber cloth.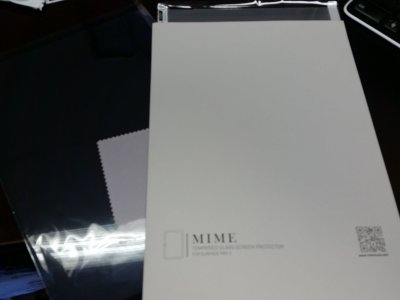 It's hard to see, but the dust catcher thing is the shiny sheet under the package. It looks and acts like a cheap screen protector but what you do is after cleaning the screen, you peel the catcher's paper back, place it on your screen, pull it off, and it removes any dust particles remaining. Anyone that has installed a screen understands the importance of removing all dust particles before installation.
As you can see here, the screen itself is very opaque before installation since it has sheets adhered to either side.
Full instructions are included in the sleeve that holds the protector: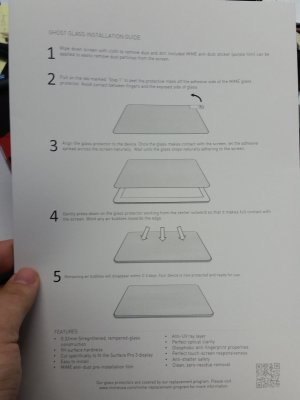 After cleaning my screen, I removed one side of the protector's backing and lines it up on my screen. Here, you can see it begin to adhere itself to the screen. This is a completely dry installation so what you are seeing is the air escaping from under the screen.
The protector lines up very well with the SP3's screen and has all appropriate openings for the camera and sensors. After it is on, you remove the outer layer and the screen protector disappears. It took me an extra 60 seconds to get a couple bubbles out and now I cannot tell it's there.
It does not interfere with the pen and I doubt it will wear the pen down like some protectors. It also does not interfere with the Type Cover's magnet. However, I will say that it does not appear to do much if anything to mitigate fingerprints as they are just as evident post installation on the protector as they were on the original screen.
Overall, 4 stars. Very very nice if a bit expensive relative to typical, non glass protectors (minus 1/2 star) and although they don't promise it, those looking for preventing fingerprint smudges must look elsewhere (minus 1/2 star).
Still, I would absolutely recommend it if you do not mind paying $50. Easy installation and it literally looks like you've put nothing on your screen.