Hello everyone,
Picked up the SP3 over the weekend and finally had some time to sit down with the device.
I've ran into an issue that maybe someone could help me out with? I've went ahead and attempted to update the device for both windows and the firmware itself.
Currently the SP3 has been on the screen - Please wait while we install a system update - for over an hour with the fan running at full throttle it seems.
(Not sure if I should let the device run out of battery and try again, hard reset, etc. since I'm basically locked out)
I tried searching on the forum to see if there was anyone else having this issue but came up empty. (Google / Twitter as well)
Any assistance would be appreciated since I would actually like to use it!
Thank you.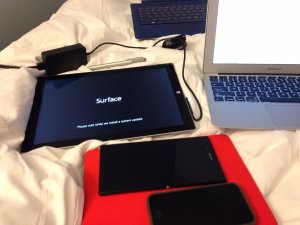 Last edited: