I previously had the i5 / 8 / 256 and always assumed it was overkill for my needs and usage. It was returned for defect reasons. I really missed the SP3 so I decided to give it another shot. This time I decided on the i3 / 4 / 64.
I use the SP3 as a tablet 90% of the time and for very lite PC use the other 10%. I am retired and it's a home type usage only kind of thing for me.
I've been pushing this thing pretty hard to make sure the processor and RAM are adequate for my needs. So far, based on my usage, its fine and might still be overkill.
My usage: (these are all usually running in the background)
Tweetium
Nextgen Reader
Mail
IE (websites / YouTube)
MSN Sports
MSN News
Package Tracking
I also use these often but they don't always run in the background
Simple photo editing
Calendar
OneNote
OneDrive
MS Word
Music App
Video App
I do other things obviously but this is my normal usage.
Speed
I don't notice any discernible difference between the i3 and the i5. While I am pretty sure there is a difference, I don't notice it. For my use the i3 is blazing fast and I've encountered no issues.

RAM

I am not seeing any issues at all going to the 4GB version. For my usage I am hovering around 1.7GB used and 2.3GB free. See the screenshot: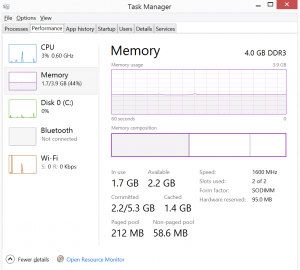 As you can see everything is fine and dandy rockin' 4GB of RAM
Storage

This is where it could get tricky for some as is the 64GB of storage enough?
For me it's more than enough. I have an Office subscription and as you may already know that comes with unlimited OneDrive storage. I also have a 128GB microSD card. Between the OneDrive space and the SD card I feel that I am more than covered. If you don't have an Office subscription then microSD cards are pretty cheap these days. You can find quality ones for about $30 in the 64GB size.
I know this question pops up often about the i3 and if its suitable for your use. I hope I've helped someone with this thread who may be trying to decide. I'd say that if your usage is anywhere even close to mine, that the i3 is more than enough..
Last edited: